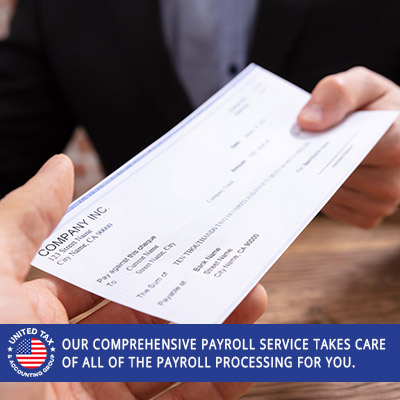 A timely payroll is imperative to keep an optimal working environment. The management of such an important task demands a lot of time and attention to detail. If you or your staff has trouble completing paychecks and handling tax returns while keeping your business afloat, United Tax and Accounting Group is a trustworthy alternative to efficiently cover all the
payroll services
required by your business, no matter how comprehensive.
United Tax and Accounting Group processes all your paychecks and deposits, providing customized payroll and year-end reports. We also file your company's federal, state and local tax deposits, abiding all tax obligations and legal boundaries in place.
Protect your peace of mind and enhance your company's productivity while securing the most efficient payroll services.
Our professional team represents a cost-effective way to complete all payments without the mishaps or delays usually caused by the intricacies of payroll and income tax codes. United Tax and Accounting Group helps you keep your employees happy and your business thriving.