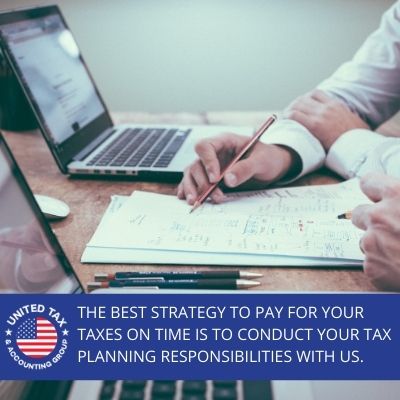 Do you need to plan your taxes to file your tax return on time? You've come to the right place. At United Tax & Accounting Group, we offer the expertise of professional accountants specialized in tax planning. They can help you set your tax documents to determine how much you must pay according to your earnings or accrued income.
The best strategy to pay for your taxes on time is to conduct your tax planning responsibilities with us so that you don't get caught unawares once tax season hits. Through our tax planning methods, you can program your tax payments within the established timeframe, and we'll help you minimize the risks of making mistakes or omissions while filing your tax return. These are some of the reasons why our specialists represent an excellent choice for you when it comes to tax planning, both for individual and business taxes.
We count on the most advanced technology and the knowledge of the best accounting professionals to help you prepare and file your taxes without a hitch. We take care of all the steps involved in tax planning to ensure that your taxes are filed the right way and according to all the regulations in place. Through our tax planning services, you'll get your documents properly organized and managed, not only during tax season but throughout the year. This way, you'll stay up to date with all your financial records and be ready if any of the government authorities in charge of overseeing your tax obligations happen to send you an audit notice.
The Best Miami Tax Planning Service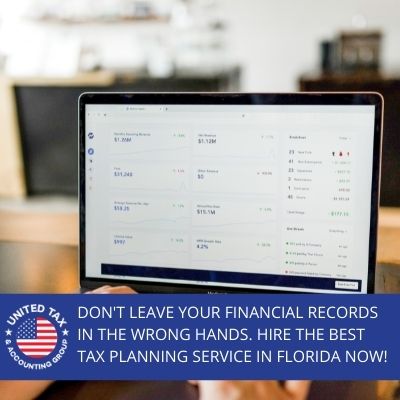 With United Tax Group, you have the best tax planning services in the Miami area and the rest of the country. Our tax planning is an efficient asset to help you keep your tax payments up to date, avoiding mistakes, miscalculations, and penalties in the process. Our tax planning services are meant for both individuals and businesses according to their corporative scales and covering all commercial trades.
You can hire the best Miami tax planning service and guarantee that your/your business tax planning responsibilities are completed within schedule with the best team of specialists on your side. Don't leave your financial records in the wrong hands. Acquire the best tax planning service in Florida and guarantee your peace of mind while planning your individual and business taxes.
Stop waiting and hire our tax planning services as soon as you can! Just call (786) 431-5576 or fill out the
contact
form on our website to get more information concerning the benefits you get after securing our tax planning services. Let United Tax & Accounting Group guide you through the process of planning, preparing, and filing your taxes.