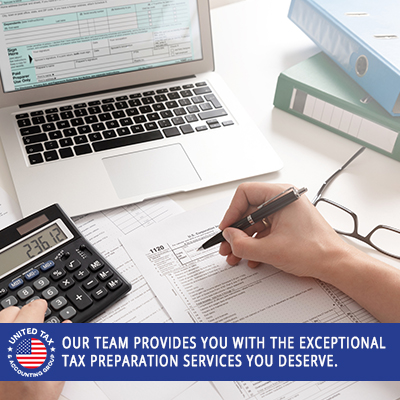 Are you looking for a reliable tax preparation service? You can count on United Tax and Accounting Group to manage the most stressful parts of your finances, helping you keep your documentation in order and filing your tax forms through the best tax preparation service in the industry. Despite all the steps involved in the process, tax preparation no longer has to be a problem when you have the experience of accredited tax preparers on your side.
An efficient tax preparation service entails the calculation and subsequent filing of income tax returns. Tax preparers must have proper certification from the IRS while nurturing important skills in the management of people's personal affairs. When a tax preparation professional fails to convey trust and responsibility, the quality of their tax preparation service suffers. For this reason, the accountants, agents, and tax attorneys at United Tax and Accounting Group encourage long-lasting relations with each of their clients.
Our tax preparation service is active and updating its resources all year round, with effective measurement of expenses to reduce tax liability. Our tax preparers count with extensive experience and the proper training to protect your personal information, while our tax preparation service seamlessly complements all the legal aspects of tax returns.
Best Tax Preparation Services in Florida
United Tax and Accounting Group offers the skills of seasoned accountants and professional tax preparers to complete your tax returns with accuracy and within the stipulated time frames. We have ample experience making the best of the local market, updating our tax preparation service to Florida's laws and financial climate. If you need personalized assistance, you can always come with us with questions about the receipts needed to complete your taxes. Our tax preparation service guarantees honesty and impeccable organizational skills to actively help you through your financial growth. If you want versatility to keep your taxes order through your daily responsibilities, look no further: the top-tier tax preparation service from United Tax and Accounting Group is the answer you need. Call (786) 431-5576 today or fill out the
Contact
form to get all the information you need about our accounting and tax preparation services.