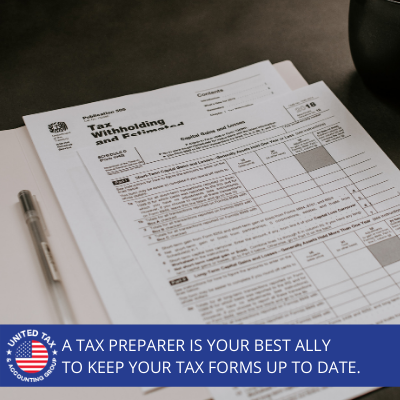 Do you need to hire a professional tax preparer? That's what we have for you at United Tax & Accounting Group! Through our specialists' professionalism, you can count on a tax preparer to fill out your tax forms and pay your taxes on time. Our tax preparer takes care of organizing your account documentation to determine your tax rate according to your accrued income and revenue.
As the tax season draws closer, a tax preparer is your best ally to keep your tax forms up to date, whether you're dealing with your own taxes or your company's. Our tax preparer will minimize the risk of mistakes or omissions when it's time to put together your tax statement.A tax preparer is trained to organize, prepare and file all your tax data the right way, according to the requirements set by the
Internal Revenue Service (IRS)
.
A tax preparer knows which forms must be filled in relation to the type of taxpayer you or your company represent and the commercial activity you perform. A tax preparer will help you make the best of deductible fees and reimbursements while encouraging taxpayers to pay their taxes after a year of struggles caused by the Covid-19 pandemic.
With a tax preparer on your side, you reduce the chances of making mistakes that could lead to fees or penalties, turning tax preparers into a profitable investment. There are various types of income managed within the U.S., which adds some confusion to the process of filing your tax return. You can hire a tax preparer to always pay the taxes that correspond to your income and that of your company.
With our tax preparer's help, you will ensure that the process of filing your tax return is reliable and safe because we count on the digital tools and professional knowledge to guarantee that your tax commitments are completed correctly.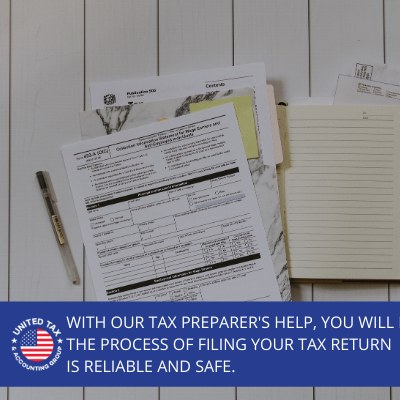 Our tax preparer will take care of managing your financial records, not only during tax season but throughout the rest of the year so you can always have your tax information in order. This is useful in the event of audits from government entities responsible of safeguarding the process entailed in filing your tax return.
The Best Tax Preparation Service in Miami
United Tax & Accounting Group will put the best tax preparation services in Miami and the rest of the country at your disposal. Our tax preparer is efficient when it comes to staying on schedule with your tax payments, avoiding mistakes, oversights, and even penalties. Our professional tax preparer knows the process of filing individual and business tax returns in all corporative scales and commercial industries.
You can hire the best service to prepare your taxes in Miami, and our tax preparer will guarantee the optimal completion of your tax returns within the designated window of time. An unqualified tax preparer should never get a hold of your financial information. You can hire our tax preparation services and guarantee the financial stability of your company or business.
Don't let any more time go by, and hire our professional tax preparer as soon as you can! Call (786) 431-5576 or fill out our website's
contact
form to get more information concerning the benefits that our tax preparer has for you. Let United Tax & Accounting Group guide you as you plan, prepare, and file your individual and business taxes.